Razorback Zero-Loss Recording Appliance
Recording and streaming are implemented using a grid architecture where multiple "headless" Razorback encoding nodes with different levels of quality can be pooled together to record the same event, archive it at different quality levels and then register the files to the same scheduled recording. This system allows for multi-level redundancy and resilience and provides a clear upgrade path as formats and qualities are increased over time.
Razorback encoders are proprietary to Sliq and are written from the ground up by our engineers to broadcast specs,allowing us to meet demanding reliability specifications. We have tested, qualified and licensed best of breed codecs and are constantly updating them to support new formats and protocols as they are adopted in the industry.
All of our encoding nodes use a "shared-nothing" design for fault-tolerance and resilience. In addition to streaming live, encoders constantly record to a local disk loop with a programmable duration. Even in the event of network and server outages, recordings will continue uninterrupted. As the recorders are running 24/7, they can be set to be "muted" while no meetings are in progress if the existing broadcast infrastructure does not provide this functionality.
The Harmony Hub architecture uses a store and forward system along with local storage perpetual-loop recording nodes to maintain continuity of recordings through connectivity disruptions. Encoded content is stored in a self-maintaining loop fashion on the encoding nodes, assembled and copied to an Intranet accessible media repository on our Harmony Hub server and then published to the Internet either automatically or through operator intervention. The use of a perpetual loop recorder offers the ability to go back in time to extract a recording to permanent archive. The loop recordings are secured using enterprise permissions to prevent unauthorized access of inadvertent recordings. Alternately, the recorders can be muted/blacked out while no meetings are in progress.
Archiving
Archiving of live recordings is triggered either manually or automatically using scheduling data entered into Harmony Hub by an operator or administrator. Once a meeting has been completed, a service called "StreamAssembler" assembles contiguous file(s) for the recording from the encoding grid's local storage then subsequently stores the files in a network repository and registers them with the asset metadata.
Recording Formats
We store both high and low-resolution video in industry-standard H.264 format with audio embedded using the AAC codec format. Typically, we configure bitrates between 300kbps and 1Mbps. For high-quality archiving, we recommend 6-15Mbps at resolutions up to 1080p. We also offer the option to preserve high-quality archives using lossless PCM wave radio technology.


By adhering to H.264/AAC codec standards with MPEG4 file containers, the Sliq Harmony Hub solution is able to deliver live and on-demand streaming audio and video to the widest possible array of client devices. Typically, desktop, laptop computers, Apple iOS and Android devices use the HTTP-based proprietary HLS protocol. Going forward, the same codecs will be supported using the newer MPEG-DASH specifications.
Our Harmony Hub solution is designed from the ground up with a high level of resilience and fault-tolerance. While we have some standard recommendations, every customer is different, each with their own standards. Luckily our solution is very flexible and layers of fault-tolerance can be added or removed as per customer requirements. Some typical techniques are listed below:
Redundancy in recording, application servers, storage
Highly fault-resistant recorders ("shared nothing"/store and forward)
Loop record, zero-loss technology
Load-balanced app servers
Highly cacheable delivery servers
Virtual machine live migration, auto-failover and high availability
Database replication, clustering and failover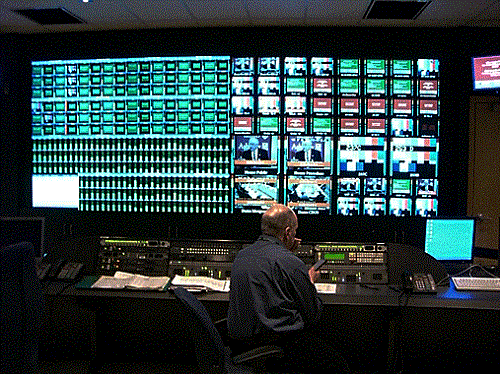 Comprehensive Oversight
It is impossible to run a highly reliable system without comprehensive monitoring. Our Harmony Hub solution includes modules to ensure 24/7/365 operation where media systems start to become part of your critical infrastructure. By providing both automated and visually assisted monitoring tools, IT staff are empowered with the tools that they need to quickly detect and correct problems before they impact service.
Confidence Monitoring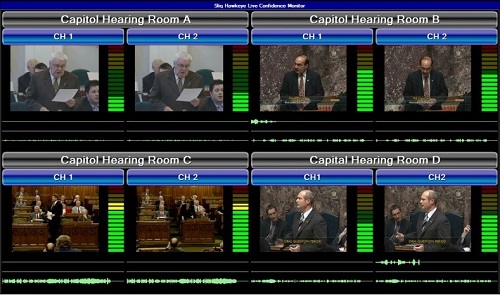 Encoders are monitored using our own availability and confidence monitoring tools. Our Hawkeye Live platform provides visual "wall of video" confidence verification of proper operation of the encoding grid. Along with visual confirmation of video quality, staff can monitor audio levels, bitrates and other such parameters for total assurance that everything is under control.
Typically, Hawkeye Live monitoring is displayed on a large screen in a central operations center where broadcast or IT staff can keep an eye on it.
Availability Monitoring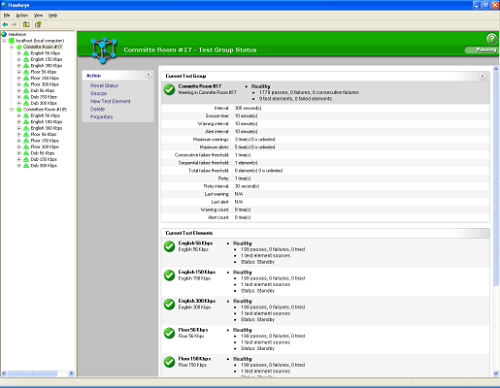 While confidence monitoring generally requires a visual display of video and audio levels, availability monitoring runs "headless" on a server and monitors encoder output and critical services from an application availability perspective. Using configurable intervals, all critical subsystems are queried for health and availability with errors triggering automated diagnostics and alerting. An operator console can be used to view the overall system health as well as reset errors and warnings.
Unleash trapped value by re-using existing data in new and creative ways.
Do you need to bring in recording schedules from your existing system or automatically index video from an existing touch-screen voting system? No worries, our Harmony Hub solution comes with a rich set of APIs and interface options that make it simple to interface with third party systems. These interfaces are in the form of business objects, RESTful web services and XML drop folders. Getting data and real-time notifications in and out of our system is relatively painless. Typically this type of functionality is used for a variety of purposes such as the ones listed below:
Scheduling meetings and recordings using external data sources
Triggering meeting start/stop
Voting system integration
Agenda and roll-call data import
FTP archive file distribution
Post-process triggers (transcoding, etc.)
Website thumbnails and timelines
Contextual website references (bills, votes, topics, etc.)